molly.com
Wednesday 27 February 2008
I like this interview! It runs a bit long but Roger made me feel so welcome it just came out as a spontaneous chat.
Anyone willing to do text transcript, holler. I'd like to make one available!
Thank you, Roger, for a great interview.
Enjoy, comment, bitch etc. below:
Filed under: general
Posted by: Molly | 08:12 | Comments (37)
Wednesday 20 February 2008
It's been said that "home is where the heart is." Well, this heart has been very blessed, because I've found heart in so many places, and with so many people.
Tonight I get on the plane that will take me to the plane that will take me to the other plane that will bring me to my physical home in Tucson, Arizona. I'm looking forward to seeing my cat Honey as well as all my friends and loved ones there.
But as I sit here in Cairns, Australia, nearing the end of a month-long journey throughout the southern hemisphere, I'm deeply moved to know that the Aquarian age of ideals has, while always shaped me, proven out in real life.
I feel a true part of the family of humankind, and a part of this beautiful earth that I am so fortunate to travel and experience.
So, it is with my sincerest thanks and all my love to each and every person, and with regard to each and every place, to have helped me find out this amazing fact: There truly is no place like home.
How lucky I am to have found out what that really means. How grateful I am that you have shown me.
Filed under: general
Posted by: Molly | 21:24 | Comments (21)
Monday 18 February 2008
Guess I'm going down in those history books, because I am scandalous!
What fun! I love the fact that Matt (the fellow whose shirt I unbuttoned the top two buttons of) used to "smuggle" my books into class. In the sixth form, no less! Oh, the irony.
Filed under: general
Posted by: Molly | 19:25 | Comments (13)
Sunday 17 February 2008
As a depressive, I've always found the people I get involved with during the dark times end up being my worst mistakes.
But happiness, I'm sure, is sexy. I see a plain person frown, and that's just a plain person frowning. I see any person, no matter their physical being, alive with happiness, and that is very appealing.
Happiness is sexy. I may not always be able to be happy, or sexy, but damned if I don't love being both.
What do you think?
Filed under: general
Posted by: Molly | 03:23 | Comments (35)
Saturday 16 February 2008
I've been in a wonderful hotel here in Wellington, New Zealand alas, with the crappiest connectivity ever. Then, something rather suspicious began to happen.
Note the URLs – they are the same in each case. Note that the sites are in fact, not the same.
Curious, I thought I'd put a few browsers to the test. Here you see Camino (seemingly) rerouted to someone's phishy site. Firefox, Opera, Safari and Shiira all FAILed.
Here's IE7, on Vista, in parallels on my MBP.
Well, that's just very strangely impressive indeed.
Filed under: general
Posted by: Molly | 05:37 | Comments (28)
Friday 15 February 2008
What a fantastic experience here in Wellington, New Zealand.
Content, personalities, activities, food, drink, entertainment were all exceptional due to the hard work of the awesome Tash and her crew of equally awesome folk.
I want to shout out a thanks to this wonderful group, who work, for free, to pull Webstock off.
This is the finest event I've been to in quite some time.
Webstock restores my faith that not everyone involved in conference organizing is concerned with profits these days, and in fact people, and the passions of our industry are still going strong.
My very personal thanks and endless tons of love for all involved in this fantastic and very special event.
Filed under: general
Posted by: Molly | 21:49 | Comments (13)
Friday 8 February 2008
If it isn't on your "places to see before you die" list, put it on.
I might never leave.
Coolest most awesome, broad minded, multicultural city I've ever been in.
I love Melbourne. What an amazing, unique town.
Filed under: general
Posted by: Molly | 09:15 | Comments (28)
Tuesday 5 February 2008
What? Why, it's "An evening with Molly Holzschlag" in Melbourne, Australia. An informal, question and answer forum, the goal is to have a great discussion about all things Web. Standards, practices, oh, and yeah, I'm sure IE8 will be of interest. The event was organized and is being brought to you free by the wonderful folks at WIPA (Web Industry Professionals Association) and Web Standards Group.
| | |
| --- | --- |
| Date: | Wednesday 6 February |
| Time: | 6.30pm for 7pm start |
| City: | Melbourne |
| Venue: | Loop Bar, 23 Meyers Place Melbourne 3000 VIC |
| Cost: | FREE |
The conversation will likely take up an hour or so, with plenty of time for drinks, socializing and networking after. I'm very excited to be seeing old friends, and meeting new! Please come by if you're near the area, and make sure to come say hello to me. 🙂
Filed under: general
Posted by: Molly | 05:26 | Comments (11)
Sunday 3 February 2008
I'm preparing my keynote for Webstock in Wellington, New Zealand, coming up next week. I would very much like a sampling of video shots of a wide range of individual opinions and thoughts answering the question: "What is the definition of Web Standards?" You can be as funny, mean, or weird as you like so long as you have some clear point to make. If you're an enthusiast, be enthusiastic. If you're a hater, be a hater. Just have a point, and think of the children 😉
If you'd like to help out, drop a me! please in the comments. Shyness definitely does not apply here. I'll contact you by email privately with details as to where to send and format, etc.
I'll be using these clips within the presentation to gain a widespread look at how people define, and feel, about Web standards. Mostly, the point is to demonstrate how it can mean such a variety of things to people from all over the world. The more variety, the better. I will then publish them in the public domain for all to enjoy.
Up for it? Let's hear from you!
Filed under: general
Posted by: Molly | 18:55 | Comments (16)
Saturday 2 February 2008
Earlier this month there came an interesting post on the "Top 15 Women Bloggers" courtesy xfep.com. The list is surely a good one, citing strong women bloggers from a variety of backgrounds, interests and talents.
This morning, I woke to find a link to a post by Hùynh Vĩnh Sơn, a Vietnamese blogger who has published the top 15 list in his native language. He then followed it up with a thought-provoking image questioning "Vietnam female blogger where are you?"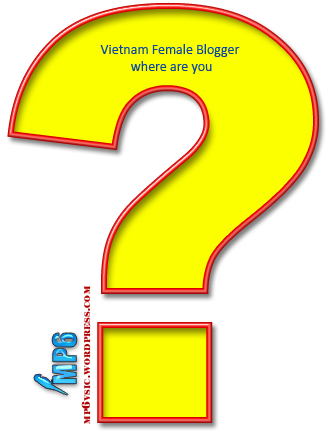 One of the most awesome things about the Web is surely how global we have become. Yet, our blogging and social networks, while becoming more international in readership and scope, still have gender, language and cultural boundaries that will likely remain for a long time to come. And, these distinctions are important. I for one want to see the values of culture preserved. I'm sure most will agree. I mean, who wants to have one language, one food, one way of life? Much of life's experience is in fact in our diversity, and the fascinating things that happen when we are expanded as individuals and groups through different views of the world.
I think about translation tools and online social environments as well as global interaction guides to help us understand some of the etiquette and behaviors involved when dealing across cultural boundaries, and even divides. I see that these are good tools to use to begin with, but I'm interested in discussing how to create social software that can assist us in avoiding a melting pot and embracing our global differences.
The Web, which often progresses socially a lot faster than the actual world does, offers much to enhance, assist and aid both the opening of the world to its true global potential while maintaining a respect and awe for the individual cultures that makes our world so very rich.
Hùynh Vĩnh Sơn's post, which I could not read but for the fact there were translations and a high-impact image, has brought these thoughts to the forefront. What are your thoughts about blogs, the social network and cross-cultural enrichment? I'm truly fascinated to know.
Filed under: general
Posted by: Molly | 18:49 | Comments (22)